Mens sana in corpore sano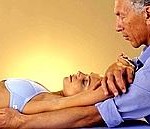 Let me point out another interesting article appeared on page alfemminile.com:
"The positive effects of Rolfing are not only structural, in addition to aesthetic benefits also develops a greater self-control: the different working sessions on the body at an energetic level by putting it in working condition with no waste of energy.
No less important is the feeling of well being that has a positive effect on mood,thus giving greater security in the actions and emotional states. "
Read the original article HERE.